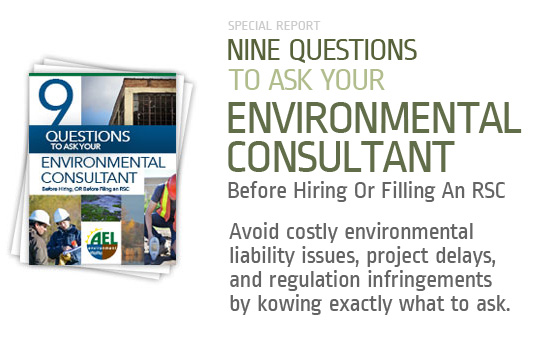 Start Asking the Right Questions Today
And save time, budget and hassles before hiring an environmental firm.
By submitting the above information, you are also consenting to receive email messages from AEL Environment regarding other Whitepapers or special information, which you can unsubscribe at any time.
The 9 Critical Questions You Should Be Asking Before Any Investment in Environmental Consulting
| | | |
| --- | --- | --- |
| Do you agree that experienced environmental consulting will save you money long-term? Are you sure your site is clean? | | Interested in avoiding additional project costs by understanding each piece of an RSC, Phase I, Phase II and how they work together |
| What is O.Reg 153 and why it's vital for your environmental consultant to know it inside and out? | | Did you know that advanced technology can dramatically reduce project timelines and budgets? |
What you need to know before hiring any environmental engineer or environmental consulting firm in one, easy to digest whitepaper
O. Reg 153 is important, and crucial for you to understand and your environmental consultant to know inside and out
Ontario Regulation 153/04 (Amended O. Reg. 269/11) is Ontario's provincial standard for assessment and cleanup of environmentally impacted land. Under O. Reg. 153, land owners can achieve liability protection from future clean up requirements through a Ministry of the Environment acknowledged Record of Site Condition (RSC). In short, following the process described in O. Reg. 153/04 will allow land owners to obtain an RSC, the most common standard of environmental due diligence in Ontario.
O. Reg. 153/04 describes several phases of environmental investigation and reporting:
Phase I Environmental Site Assessment (ESA)
Phase II ESA
Phase III ESA, also called a Record of Site Condition (RSC)
What's A Phase I (Phase 1, Phase One) Environmental Site Assessment? And how will it play into your entire project (and budget)?
A Phase One Environmental Site Assessment (Phase I ESA) is an important first step in understanding the environmental legacy of a site. The Phase I ESA is a non-intrusive historical investigation which sheds light on past activities on site and areas of potential environmental concern (APECs).
Site characterization, beginning with a Phase I ESA, may be necessary as a condition of property sale, change in property use, or for many other reasons. Other property owners obtain Phase I ESAs in order to demonstrate commitment to reducing their environmental liability and increasing confidence in the condition of their site.
Phase 2 or Ph II Environmental Site Assessment(ESA)
A Phase II Environmental Site Assessment is the first intrusive step in site characterization. In a Phase II ESA, an environmental consultant (or consulting team) visits the site to validate Areas of Potential Environmental Concern APECs) which were identified in the Phase I ESA. Generally, the Phase I ESA will identify all areas that require further investigation, and O. Reg. 153/04 outlines the requirements that all Phase II ESAs in Ontario must meet.
Through testing of surface and sub-surface soil, surface water, groundwater, and other materials on site as necessary, the current environmental condition of the site can be assessed and described. As each site has unique APECs, the sampling program will be tailored to the site's unique history.
When completing a Phase II ESA, a sampling plan is established, generally requiring several members of the environmental consulting team to be present on the site for one or more days, and a drilling subcontractor may be required to reach sub-surface samples. AEL's team uses strict quality assurance and quality control procedures including the labelling of samples with unique barcode identification label, and cross-referencing sample descriptions on field borehole logs and in GIS software. These procedures eliminate out of sequence or erroneous logs which can significantly affect the cost of the Phase II and accurate site understanding. The use of barcodes on samples is part of AEL's industry-leading approach to Phase II ESAs.
Phase 3 or Ph III Environmental Site Assessment
Generally, a Phase III ESA is the term used to describe the remediation phase of an Environmental Site Assessment. This includes both the planning and the execution of a remediation of an impacted site.
Phase I and II ESAs lead the engineers or scientists investigating the site to understand the history and current condition of the property. Phase III begins with delineating and quantifying the impacts that must be remediated. Soil volumes are calculated, groundwater flow may be assessed and modeled, and other monitoring may occasionally be necessary over several seasons.