In early 2013, AEL was retained by a client in central Ontario to complete a Land Contamination Assessment, including Phase I and II environmental site assessment and subsequently a Remedial Action Plan for a former industrial site. Following a Phase I ESA and groundwater testing in the Phase II ESA, AEL identified one (1) location exceeding the Ontario Soil, Groundwater and Sediment Standards under O. Reg. 153/04 Table 2 for one VOC, specifically tetrachloroethylene (PCE).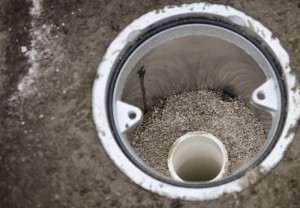 The team completed a Remedial Options Analysis (ROA) to determine the remedial approach best suited for the site. Evaluations of advantages, disadvantages, costs, drivers, and more were completed in this iterative process.
At the client's request, AEL proceeded with in-situ groundwater remediation to bring the site into appropriate condition to meet SSRA standards.
The highlights of the process for each major option considered are presented below:
Method

Advantages

Disadvantages

Cost

Excavation and Off-site Disposal

On-site testing to segregate clean soil would allow reuse as clean fill, quick option.

Difficult access to contaminants since digging near foundation wall would be required and contaminants located at depth primarily in pore water

Some disruption to operations.

$250,000

In-Situ Chemical Oxidation (ISCO)

Relatively unobtrusive

Minimal disruption to operations.

Technically feasible.

Longer term testing required to ensure sufficient treatment and potentially corrosive to utility cables.

Permit required.

$185,000 to $215,000

In-Situ Bioremediation

Relatively unobtrusive 

Minimal disruption to operations.

Technically feasible.

Longer and slower remediation approach to In-Situ Chemical Oxidation. Long term testing required to give sufficient treatment. Permit required.

$160,000 to $180,000
Based on the ROA, and having reviewed the sub-surface conditions including soil and contaminant characteristics, the hydrogeology, combined with AEL's experience on many similar sites, AEL was of the opinion that in-situ chemical oxidation was the most appropriate feasible option in addressing the PCE impacts in the groundwater.
Overseen by AEL, a Remedial Action Plan (RAP) was developed to address these specific risk management and remediation measures, and the ISCO option was implemented.
This involved an injection of an oxidant into injection wells on the site in locations that made sense based on the impact locations and the known hydrogeology. The team provided monitoring and analysis of the effects of the treatment.
As of mid 2014, the groundwater at the site is continuing to move towards what is acceptable for the site. Additional testing is planned for later this year when the oxidant has had enough time to work through the groundwater and AEL expects to see levels of PCE well below what is allowable on the site.