Site: Commercial Printing Facility in Southwestern Ontario
Background: The client requested environmental due diligence before leasing a portion of the Site from the owner, and AEL was contacted to provide a Phase II Environmental Site Assessment (ESA) detailing the current environmental state of the leased portion. Previous studies indicated there were contaminants of concern present in the soil and groundwater, and a former dump site may be present over a portion of the site. An underground storage tank was also present on the site.

Approach: AEL conducted a Phase II sampling program, including soil, groundwater and soil vapour sampling. Previous areas of concern were sampled, along with the portion of the Site reported as having a dump site. An electromagnetic survey was completed in order to determine if underground tanks or a septic bed was still present on-site. On-site testing methods included UVF, XRF, PID and the use of a dye for the detection of LNAPL's in soil. The PID was used for the detection of VOCs in soil, as well as the detection of methane gas for landfill gas screening. Because the site was large and the client's budget limited, AEL used on-site testing as a way to lower laboratory costs and yet maintain appropriate sampling coverage.
Results: AEL fully delineated the leased portion of the Site, and outlined current levels of contamination present prior to leasing. The dump site was delineated, and a soil vapour survey ensured methane gas associated with the decomposition of waste, was not a hazard to employees or the structures present.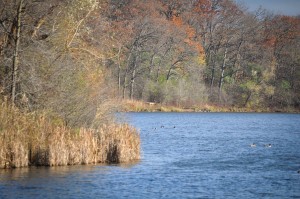 Industrial Site adjacent to sensitive features benefits from on-site testing.
Benefits: On-site testing limited the amount of samples sent to the lab, and allowed better delineation of the Site due to the increased number of samples analysed by UVF, XRF and PID. At this site, more than fifty samples were screened throughout the days spent on site and gave the team real-time feedback as to which areas to concentrate the investigation on.
Soil vapour sample screening allowed AEL to send fewer confirmatory samples to the lab based on the site screening results, while giving the Client peace of mind (that the building wasn't facing an immediate risk due to vapours) and cost savings.
The information provided in the Phase II ESA gave the client an understanding of the baseline environmental conditions prior to leasing the property and protected the client against liability by ensuring that the current levels of contamination are documented and not attributable to the client once the lease is complete (a.k.a. due diligence). Any further contamination of the site would be at the risk of the client, however any clean-up costs could be limited to the baseline data collected in the Phase II.
This study shows the value and efficiency of on-site testing using a variety of sampling technologies/tools. For information on the use of on-site testing on your property, contact AEL environment.